Hard Disk Drive, RAID Data Recovery in New York – 24/7
OK Relax… we can probably still save it!
If we cannot recover the data – no one can!
*100% data guarantee
WeRecoverData.com is a world leader in data recovery services and is one of the only companies to invest in data recovery research and development
---
New York, NY
Corporate Headquarters & Full Service Lab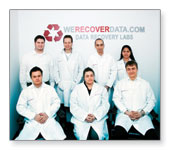 Call 24/7 for Immediate Expert Help. Manhattan Local Lab – Expedited service include results in 2-4 Hours. 
To get started:
Call 24/7 to discuss with an expert or fill up the Estimate form.
Submit a Case to generate an immediate case number.
Bring your device to our lab with the case number. 
Why Choose Us?
We are industry pioneers and one of the only data recovery companies to have in- house Research and Development (R&D).
Our R&D team allows us to recover any technically possible case. If we can't recover it, no one can!
We have state-of-the-art equipment and the most advanced technology.
Highly trained data recovery management experts, ISO 4 Class 10 and ISO 5 Class 100 clean rooms enable us to provide optimum solutions to your recovery requirements.
We have fast and friendly customer service available immediately.
We offer a free initial consultation and free extensive evaluation for your storage device.
Our Data Recovery Guarantee Policy is No Recovery = No Charge.
Contact us about free overnight shipping and we will provide you with a shipping label (in North America).
We have emergency response, on-site and in-lab, available 24/7/365 and worldwide.
Our client list and GSA government contract speaks for itself.
Why Not Try Another Company First?
We often get cases from other recovery companies after they failed to recover the data. (In many cases, we get the data, but the chance of a successful recovery decreases significantly after the first attempt.)
Other companies put a time limit on your case of only a few hours; they do not invest more than the allocated amount of time before they call it unsuccessful.
In many cases time is critical. Valuable time is wasted when a less professional company attempts a recovery.
The first attempt at a recovery has the highest chance of being successful.
*if we cannot get the required data, no recovery fee will occur.